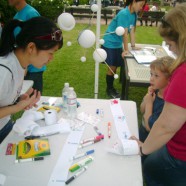 Explore Your Universe (EYU) is an annual event held on campus on November 10, 2012.  Explore Your Universe showcases science from departments across UCLA through fun, hands-on demonstrations and experiments that are accessible to all members of the public from "K through gray". Exhibits are open to the public from 12-5pm with a night-observing session afterwards (weather-permitting).
The date for EYU 2013 is to be determined.  Check back later for more information!
With wide involvement from students, staff and faculty, EYU has quickly become the main science outreach event at the university.  Click here for photos from EYU 2011.  In addition to hands-on demonstrations and experiments, there is a lecture series, a planetarium show, a physics show and access to rare fossils and UCLA's world-class meteorite collection. EYU 2011 coverage in UCLA Today.
(Video by Kim DeRose, Music by Kevin MacLeod)
(Video by Michaela Shopland and Kim DeRose, Music by Kevin MacLeod)
Praise for EYU:

"Bravo for putting on such a SPECTACULAR day for our family and over 7 other homeschool families I know of that attended.  My family was more than impressed by all the educational hands-on exhibits, but felt empowered by each volunteer who responded to us age 5-40 with respect and genuine interest in imparting knowledge.  You volunteers fanned the flames of curiosity my family  has over space, earth and the forces that rule the universe.  A day later, we are still "high" off of the experience."

Jessica Deltac, Homeschool Mother and founder of LA's Mudpies & Butterflies Homeschool