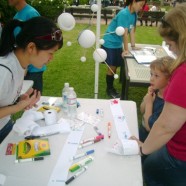 The

2014 Exploring Your Universe

outreach event will be held on

November 16, 2014

on UCLA's campus.  Check below for updates as the event draws closer.
If you have and idea for a hands-on EYU activity and want your own booth at our event, please submit an EYU booth application and our coordinators will help you set it up!
If you would like to be a volunteer for EYU, you can sign up using our Volunteer Registration form.
_____________________________________________________________________________________________________
EYU 2013 will be held on Sunday, November 17th, from 12-5pm.
PLEASE NOTE: There will be a construction closure of Westwood Blvd. from just south of Pico (Ashby Ave.) to south of the EXPO tracks (Richland Ave.) on the day of the event.  Those coming to campus from the south should take Sepulveda Blvd. or Overland Avenue.  (If coming from the east, it may be wise to use Robertson Blvd. to Olympic or to merge onto the 405 northbound to exit at Santa Monica or Wilshire Blvds. rather than exiting at Overland which will have the burden of carrying much of Westwood Blvd's traffic. 
We recommend visitors arrive early and plan to stay for the duration of the event, as there is plenty to see.  UCLA's Parking Lot 2 is the closest place to park and costs $12 per car for the day (additional parking and transportation information can be found here).
Weather permitting, the event will include nighttime activities such as telescope observing in the evening after the rest of the exhibits close. Stay tuned for more detailed information about this year's exhibits!
EYU 2013 Lecture Schedule in Earth, Planetary, and Space Sciences (Geology Building)
Join the Earth, Planetary, and Space Sciences department for several fun-filled talks given by UCLA researchers.  Each talk will be held in Geology 3656. We recommend you arrive ten minutes early to make sure you get a seat.
1-1:30pm – Life in the Universe – UCLA Prof. Jean-Luc Margot
2-2:30pm – Natural Disasters: What's Next? - UCLA Prof. Ed Rhodes
3-3:30pm – Meteorites: From the Asteroids to the Earth - UCLA Researcher Alan Rubin
4-4:30pm – Flash!  Bang!  Cosmic Impacts into Earth - UCLA Researcher Jean-Pierre Williams
 _____________________________________________________________________________________________________
Exploring Your Universe (EYU) is a FREE public outreach event held on the UCLA campus every year in the Fall that showcases science from departments across UCLA through hundreds of fun, hands-on activities, demonstrations and experiments for all ages. With wide involvement from students, staff and faculty, EYU has quickly become the main science outreach event at the university. In addition to hands-on demonstrations and experiments, there is a lecture series, a planetarium show, a physics show, and access to rare fossils and UCLA's world-class meteorite collection – this event truly has something fun for everyone! In 2012, more than 3000 participants flocked to UCLA's campus to join the all-day science exhibition – come participate at this year's event in November! For more information regarding this year's event, scroll down.
Event Videos
(Video by Kim DeRose, Music by Kevin MacLeod)
(Video by Michaela Shopland and Kim DeRose, Music by Kevin MacLeod)
Praise for EYU
"Bravo for putting on such a SPECTACULAR day for our family and over 7 other homeschool families I know of that attended.  My family was more than impressed by all the educational hands-on exhibits, but felt empowered by each volunteer who responded to us age 5-40 with respect and genuine interest in imparting knowledge.  You volunteers fanned the flames of curiosity my family  has over space, earth and the forces that rule the universe.  A day later, we are still 'high' off of the experience."
~Jessica Deltac, Homeschool Mother and founder of LA's Mudpies & Butterflies Homeschool
More Information
Be an EYU ambassador and help us spread the word about this fantastic event!  You can view, download, and print event flyers here (Flyer 1 | Flyer 2).
Check back here for regular updates about the event.  You can find information regarding previous years' events here: EYU 2012, EYU 2011 .
This event includes participation from the Department of Physics and Astronomy, Earth and Space Sciences, Atmospheric Sciences, the CNSI High School NanoScience Program, and the Center for Environmental Implications of Nanotechnology.  This event was developed by graduate students, faculty, and staff in each of the these departments.