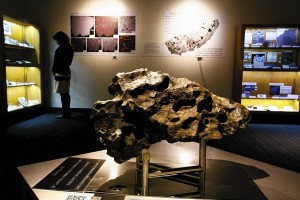 The UCLA Meteorite Gallery, located in Geology 3697, is open from 9am-4pm on weekdays.  For more information, contact iplex[at]ess.ucla.edu or visit http://meteorites.ucla.edu/.

Professor John Wasson and researcher Alan Rubin have spent decades building the UCLA meteorite collection to its impressive 1500-specimen count today.  Together, they have made the collection one of the most extensive in the world, but only recently have these unique bits of our solar system's history been on display for visitors to admire.  "For many years, we've collected beautiful exhibit specimens, but kept them locked in an inaccessible cabinet," Rubin said.  "It's nice to put them on display for other people to see."
The gallery is open to the public weekdays from 9am – 4pm, the museum is located in Geology 3697.
The UCLA Meteorite Gallery is supported by the Department of Earth, Planetary, and Space Sciences and the Institute for Planets and Exoplanets.  Those interested in providing financial support to the UCLA Meteorite Collection should visit: http://giving.ucla.edu/meteorites/.
Follow Iplex